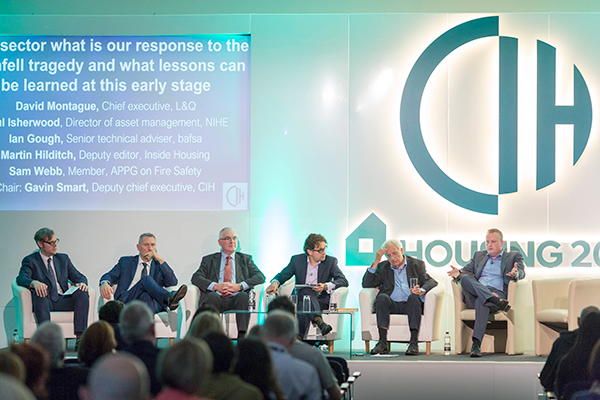 The sectors biggest stage - Housing 2018
A programme that meets the needs of the whole sector


Transformative, engaging and innovative - this was our aim when curating the content for Housing 2018.

At a time when the UK's housing market needs vision, leadership and strategy to push through policy that fixes the sectors 'broken' housing market, we sought the expert advice of a panel of 50 influential industry leaders to ensure Housing 2018 provides a programme for the entire sector, delivered by the very best speakers in the sector.
That is why at the beginning of October we held one central and three additional regional advisory panels. This helped us broaden out our reach and engage with the sector at a local level to ensure that we are creating the most relevant content on the most pressing issues.
2018 attendees included:
Terrie Alafat CBE, chief executive, CIH
Matthew Bailes, chief executive, Paradigm
Andy Barnard, partner, Trowers and Hamlins
Alan Benson, head of housing strategy and commissionin, London Borough of Haringey
David Blower, executive director corporate services, Stonewater
Tracey Davenport, board member, EMH Group
Steve Douglas, consultant, Leadership 2025
John East, strategic development director, London Borough of Barking and Dagenham
David Edwards, executive director, regeneration and housing, Oxford City Council
Aileen Evans, chief executive, Grand Union
Jane Gallifent, Development and sales director, Aster
Jonathan Goring, managing director, Lovell
Bob Green, chief executive, Stonewall
Robert Grundy, head of housing, Savills
Diana MacLean, assistant director of housing, Radian
Jenny Osbourne, chief executive, TPAS
Adrienne Reid, assistant chief executive, Incommunities
Jim Ripley, chief executive, Phoenix Community Housing
Jamie Sanders, social investment communications manager, Nationwide
Gail Teasdale, executive director, finance and corporate services, Accent Group
Andrew Van Doorn, chief executive, HACT
Phil Elvy, executive director of finance, Great Places

Hot topics and key themes that emerged included:

1. Housing post-Brexit
2. Meeting the housing supply challenge
3. How do we fund these new homes? There isn't enough innovation or diversity in funding
4. Choosing what services we deliver as landlords – shifting the business model
5. Changing the perception of the sector and the labels that are attached
6. Why do have or need house types? We just need to build more homes
7. What happens at the end of the current fiscal cycle? Lack of certainty in the stock markets and in asset prices.
8. How do we attract talent from the private sector into housing?
9. What is the role of social housing – it is now becoming less distinctive
10. What is the sector's purpose?
11. Homelessness models and what we can learn from others – international perspectives
12. The role of JV's in delivering services – how can local authorities and housing associations work together?
13. Need more holistic collaboration between health, care and housing – how can we make this happen?
14. What delivery vehicles/models are there?
15. We need to look at the future of compliance
16. Listening to tenants – who are we accountable to?
17. Technical management issues
18. Review of emergency planning
19. How do we re-brand the sector – difficult, as each organisation has a different mission
20. What does housing do right and what does it do wrong?

Regional advisory panels

We broadened our reach even further for 2018 to listen and understand needs across the UK.