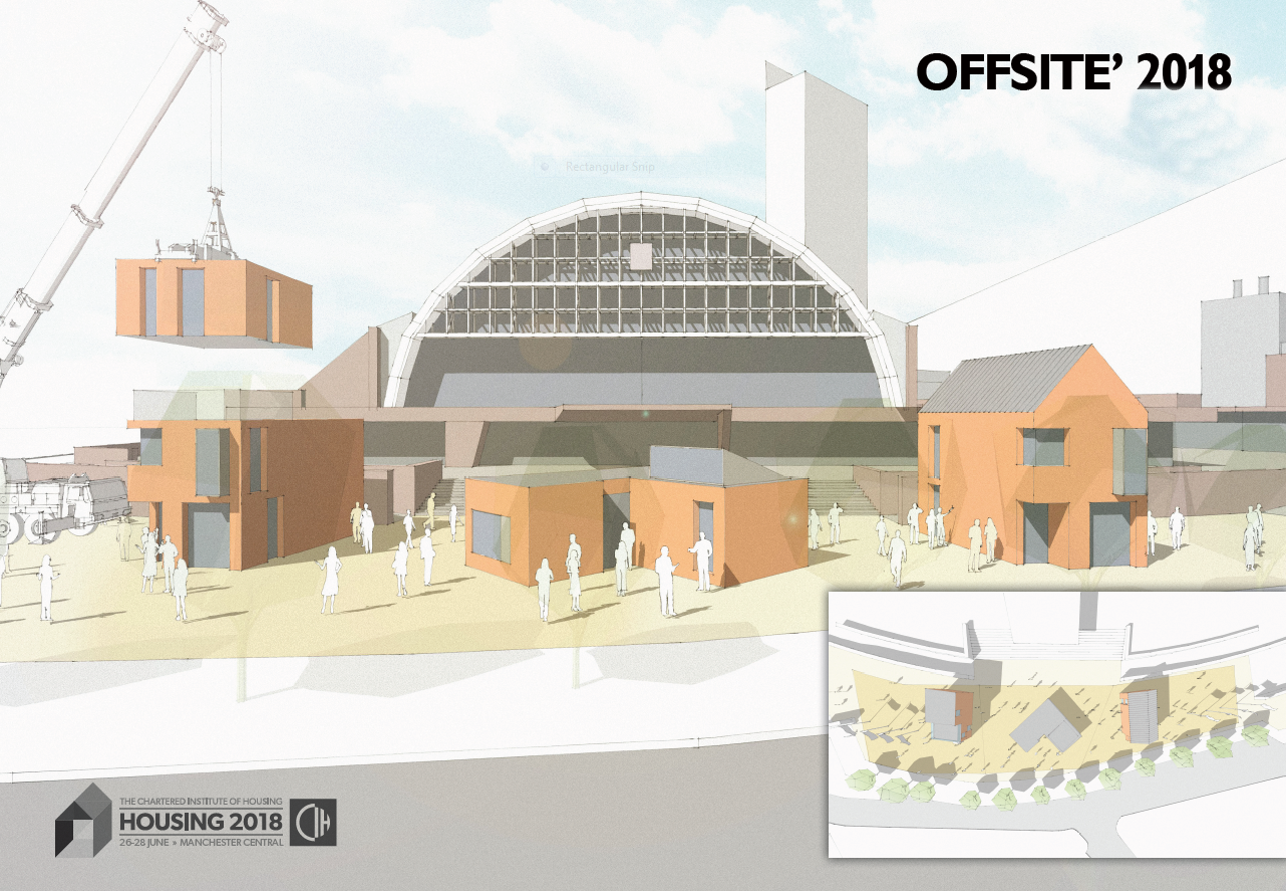 Offsite outside Manchester Central at Housing
Fixing our broken housing market together - CHIC and ilke Homes will both be building two semi-detached off-site homes over two days in time for Housing 2018.
In partnership with BRE, The Cabinet Office, GLA, Homes England, Inside Housing, Manchester City Council, MHCLG and One Public Estate, we will be offering all attendees the opportunity to walk around some of the non-traditional build solutions that can address the governments 300,000 homes target.
13 years on from the launch of John Prescott's £60k house launch at the then GMEX, we are delighted to showcase innovative solutions to the attendees at Housing who are collectively responsible for all the affordable housing completions in the future.
The government's target remains 300,000 new homes per year; let's come together to look at what is possible.

DOWNLOAD OUR OFF-SITE 2018 SPECIAL
Learn more about Off-site at these excellent sessions at Housing 2018

11:00 Tuesday 26 June
ilke Homes: Our journey and philosophy
Bjorn Conway, Chief Executive, ilke Homes


13:00 Tuesday 26 June
Homes England: How can Homes England support Modern Methods of Construction?
Stephen Kinsella, Director of Accelerated Construction, Homes England


15:00 Tuesday 26 June
Gateshead Innovation Village
Brian Ham, Executive Director, Home Group


11:00 Wednesday 27 June
Building confidence in new homes using MMC'
Graham Sibley, Market Development Manager, NHBC


15:00 Wednesday 27 June
Delivering 150,000 extra new homes per year with precision manufacturing capability
Tim Hall, Executive Director, Buildoffsite


09:45 Thursday 28 June
Introduction to ilke Homes for Ministry of Housing, Communities & Local Government
Bjorn Conway, Chief Executive, ilke Homes


13:00 Thursday 28 June
Architects as Designers in Industry'
Simon Bayliss, Managing Partner, HTA Design


*Fee applies for commercial organisations